What makes Vee Organics extra special?
We're Aussie As!

100% Australian owned & Made with Australian Ingredients.

No Fakes

Certified organic, our ingredients are grown, not made in a lab.

Cruelty Free

We never test on animals or export to countries that require testing.

Paraben & Sulphate Free

Only Natural antimicrobial ingredients to fight bacteria without damaging sensitive skin.

Vegan & Gluten Free

Our ingredients are 100% vegan friendly and contain no animal or wheat products.
Featured Products
Top 3 products for beautiful, healthy skin
Regular price

Sale price

$65.00 USD

Unit price

per

Regular price

Sale price

$96.00 USD

Unit price

per

Regular price

From $89.00 USD

Regular price

$98.00 USD

Sale price

From $89.00 USD

Unit price

per
Skincare Tweens
Skincare is an important aspect of self-care, and it's never too early for tweens to start learning about it. As tweens go through puberty, they will experience changes in their skin that can leave them feeling self-conscious or insecure.
However, by establishing a consistent skincare routine, tweens can avoid those awkward teen acne years, by preventing breakouts, protecting their skin from environmental damage, and improving their overall complexion. With the right products and a little bit of guidance, they can learn to love and care for their skin they are in, setting them up for a lifetime of healthy habits, so by the time they're looking at skincare for teenagers, they'll have all the info they need.
Organic skincare for young skin.
Teen skincare isn't just a face wash and that's enough. We take tween skincare to the next level with a routine of cleanser, exfoliant, moisturiser & face oil. At about 7 years old skin starts to change slightly, with blackheads & more severe acne starting closer and well into teenage years.
We want all teenagers to have confidence with their skin that can only come from starting self care & good skincare habits early on.
Our ingredients are not only suitable & safe for young skin they are 100% natural & most are certified organic.
We have been creating amazing skincare for adults since 2007 so we know our ingredients and formulations are tried & tested.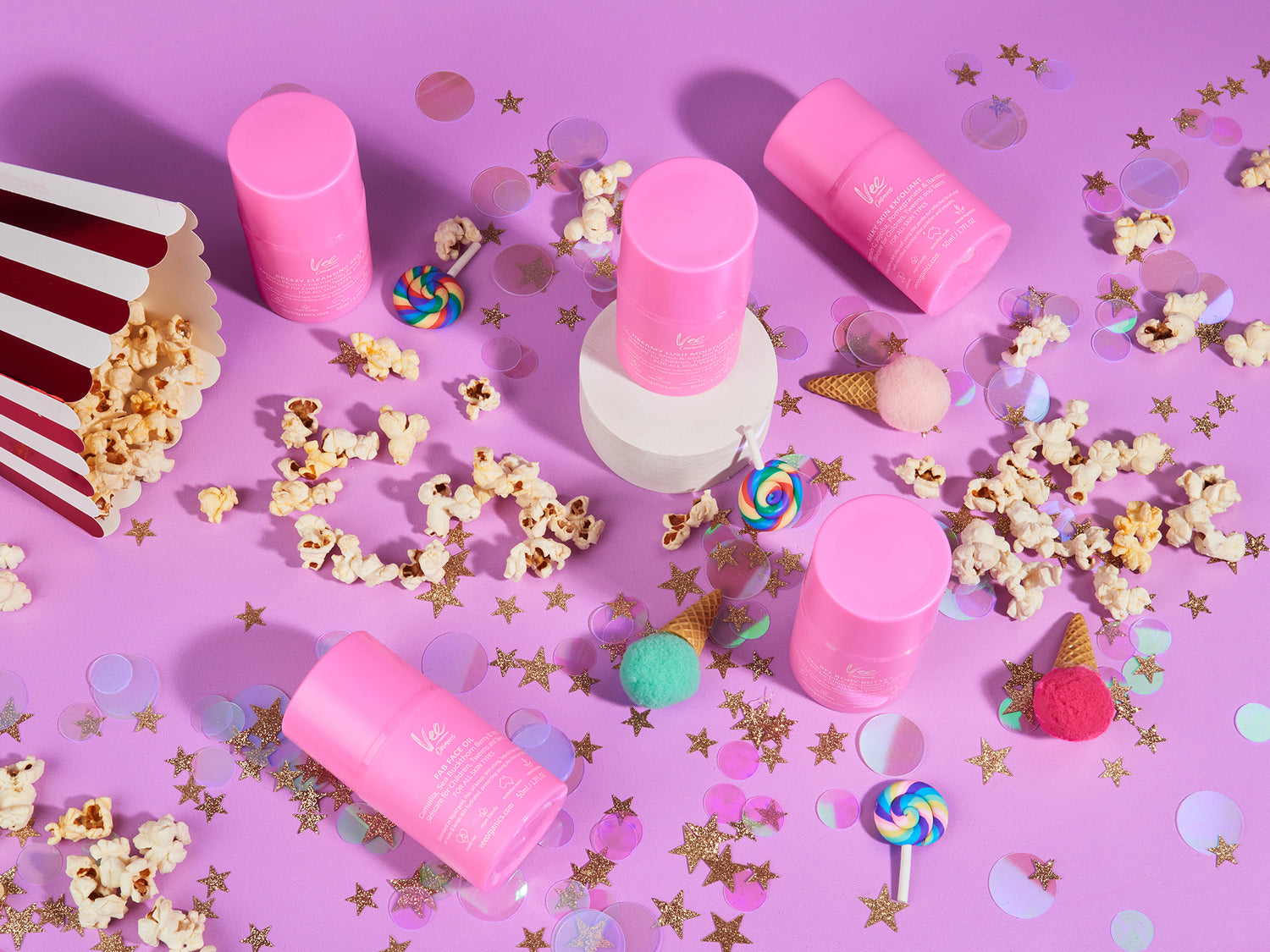 Everything you touch, or that touches you, matters
At Vee Organics, we believe everything you touch, or that touches you, matters. This is why we have created a range of organic and natural skin care products specifically to nurture the youthful skin of children and teenagers.
Our philosophy is that the best skincare is created with skin, health, and life in mind.
Read more
5 Steps to Better Skin
Exfoliate

Getting rid of the pollution and residues from daily grime is step one twice a week.

Cleanse

Wash away impurities without damaging young skin's natural balance.

Moisturise

Fight acne, dryness and blackheads to leave skin super soft, hydrated and plump.

Detox

Anti-inflammatory ingredients to fight toxins & acne causing bacteria for a youthful glow.

Lather

Skincare isn't just about the face, rehydrate the whole body after showering for soft skin.
Skincare For Teens & Tweens Frequently Asked Questions
What are some common mistakes teens & tweens make in their skincare routine?

Have you been looking up "skincare tweens" or "skin care for tweens Australia" trying to understand how to guide your tween or teen on their skincare journey? Well, look no further, we have the answers.

Common mistakes teens & tweens make in their skincare routine include not using organic or natural products (but using those with harsh chemicals) over-washing their face, using harsh scrubs or abrasive tools, using too many products at once, or not using products consistently. Over-washing can strip the skin of natural oils and lead to dryness while using harsh scrubs or abrasive tools can damage the skin barrier and cause irritation.

Using too many products can also lead to skin irritation or pimples, and inconsistent use can make it difficult to see results. It"s important for tweens to stick to a simple and consistent skincare routine that is gentle and effective.
How can parents encourage their tweens to take care of their skin?

Encouraging tweens to take care of their skin can be a bit tricky, but it"s totally doable. The best way to start is by talking to them about the importance of looking after their skin and the benefits of having a good skincare routine. You can also set a good example by taking care of your own skin and making it a family affair.

Try incorporating some fun skincare activities into your weekly routine, like doing at-home facials or trying out new skincare products together. Additionally, make sure your tween has access to gentle, age-appropriate skincare products like our product range from Vee Organics, and encourage them to make it a habit to use them daily. With a little patience and persistence, your tween will be well on their way to developing great skincare habits that will last a lifetime.
What are the benefits of having a skincare routine for tweens?

Looking up "tween skincare Australia" in a bid to understand the benefits? Let us guide you. Establishing a skincare routine early on can have many benefits for tweens, but we think the biggest benefit is the confidence they gain.

By taking care of their skin at a young age, tweens can not only learn healthy habits that will last a lifetime, but build their confidence levels in their skin they are in. A good skincare routine can help tweens to keep their skin clean, clear, and hydrated, which can improve their overall complexion and prevent future skin problems. By using the right products, tweens can also protect their skin from environmental damage and maintain its natural moisture balance.
Can tweens use adult skincare products?

Tweens may be curious to try out the skincare products used by their parents or older siblings, but it"s not always a good idea. Adult skincare products are often formulated with higher concentrations of active ingredients and may contain harsh chemicals that can irritate or damage delicate tween skin. It's better to choose skincare products that are specifically designed for tweens and teenagers, as they're formulated to meet the unique needs of adolescent skin.

These products are often milder, gentler, and less likely to cause irritation or adverse reactions. So, while it may be tempting for tweens to borrow products from their parents' skincare routine, it's usually best to stick with age-appropriate options.
What are the core skincare products teens & tweens should be using?

Whether you"re a teen / tween or the parent of a tween, you might be wondering what skincare products are essential for a good skincare routine. Well, this depends on whether you feel there are signs of acne yet. If you are wanting to start a routine more for preventative and for self-care, then the 3-step routine is perfect for teens & tweens. It includes our cleanser, exfoliant and moisturiser. Cleansing is important to remove dirt, oil, and other impurities from the skin. The exfoliant only needs to be used two or a maximum of 3 times per week. It is supremely gently and just helps to ensure the pores do not get clogged up. Moisturising helps to hydrate and nourish the skin. These three products work together to keep skin looking healthy and radiant.

On the other hand, if you already have or are starting to signs of acne, blackheads or general congestion/build up on the skin, then the 4 step with the fab face oil included is perfect. The Fab Face Oil has amazing acne fighting ingredients, such as Sea Buthorn Berry, that with consistent use visibly reduce those signs within weeks. (That's not us saying that! Our wonderful customers keep telling us they are as obsessed with this oil as we are!).

Of course, there are plenty of other fun skincare products out there that teens & tweens can try, but if you don't use anything else, these 3 or 4 are the routine teens & tweens need daily.
Is it best to use organic and natural skincare for teenage skin?

Whether you're looking at skincare for teens or skincare for tweens, with all the information available, it can all feel a little confusing, so we're here to give you all the answers. Using organic products and natural skincare for teenage skin (and tween-age)have immense benefits, as they should not contain any harsh chemicals or synthetic ingredients that may be irritating or harmful to their developing skin. Natural and organic ingredients are gentler and more nourishing, which is important for young, sensitive skin.

However, it"s important to always carefully read labels and do your research when choosing skincare products for teens & tweens, and to select products that are appropriate for your tween's individual skin concerns.