We've teamed up with CAW Life to create a mini roller for young faces!
Facial Rolling is the perfect way to ensure young skin soaks up all the beautiful serums and face creams for the ultimate result.
Our gorgeous Rose Quartz Crystal Face Roller is rose gold, made of natural crystal (no plastic pieces!!!) and have been created in a way that there is zero squeaky noises when you are rolling! Pure bliss! 
How to use? Best to use after you apply your creams + serums. Rolling will help your moisturiser / face oil sink into your skin deeper. For the forehead, massage upwards. When working around the eyes, always start from the eye socket outwards. We always recommend storing your CAW x Vee Roller in the fridge for extra amazing results!
Regular price
Sale price
$29.00 USD
Unit price
per
Money Back Guarantee
Sale
Sold out
View full details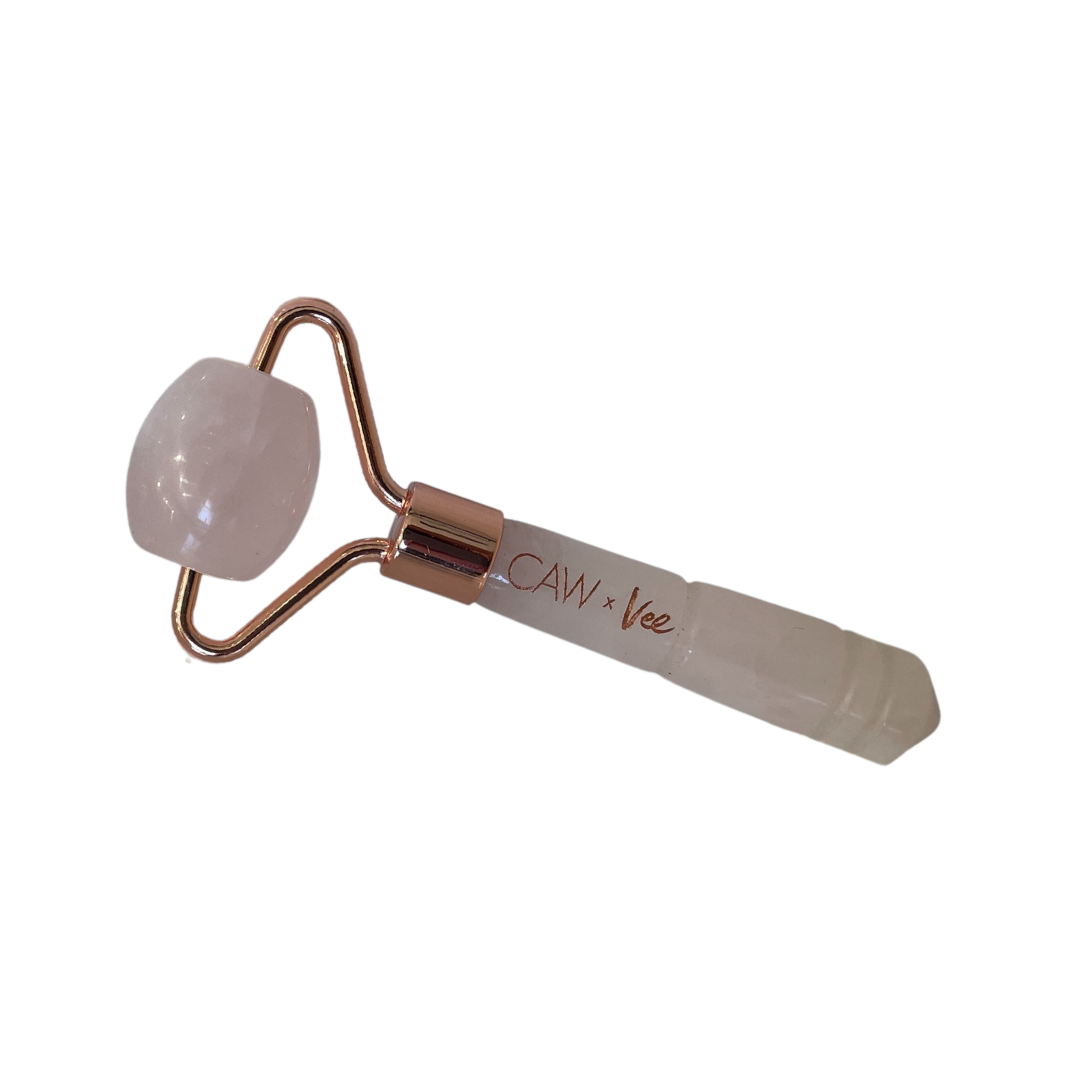 Kids Blue Light Glasses
Suitable for Kids, Tweens, & Teens
you want moisturiser & face oil to be absorbed better
As it is made of natural crystals it is safe for all skin types including acne prone skin.
Made of real
Rose Quartz

Help with absorption
of product
Benefits of face rollers
Real Crystals
Our face rollers are made with real Rose Quartz. No plastics and made in a way where there are no squeaky rolling noises!
Better Absorption
Our roller really helps to rub in the moisturiser and face oil to give young skin an extrra helping hand for better absorption of our amazing ingredients!
Effective eye protection
Blue light produced by digital screens exposes our eyes to something unnatural & harmful. Research is being conducted if it can cause similar changes to the retina in Age-Related Macular Degeneration.
Better Mood
Blue light is known to cause eye strain, headaches, & disruptions in your body's sleep cycle. All of these things together leads anyone, not just the young to be in a not so great mood. Blue light glasses reduce these symptoms.
Just as important is what we leave out
Paraben
& Sulphate Free
Cruelty Free
Vegan Friendly
Gluten Free
Directions for use
1
After
Best to use after applying moisturiser or face oil to help these absorb better
2
Forehead
For the forehead, massage upwards
3
Eyes
When working around the eyes, always start from the eye socket outwards.
4
Freeze
We always recommend storing your CAW x Vee Roller in the fridge for extra amazing results!
Real Reviews From Real Customers
Frequently Asked Questions
What is a face roller?

Face rollers have been used for centuries as a skincare tool in China, traditionally made with precious, healing crystals. Our mini roller only has one stone which is designed for use on the cheeks, jaw and forehead. We do not have the smaller stone which is normally used for under the eyes, as we don't think it is necessary on young skin. It is a spiritual, energetic, therapeutic, (and pretty) tool.
What does a face roller do?

Crystal facial rollers are used in skin care to create both physiological, affecting the physical skin, and energetic, affecting the subtle body, shifts. Crystals oscillate and hold their frequencies. The electromagnetic energy from a crystal can transmit to balance and energise the skin. The rolling itself, helps with absorption of moisturisers and/or oils, gives a luxurious face massage and helps to maintain youthful, firm, vibrant and glowing skin.
What is Rose Quartz?

Rose Quartz is the 'crystal of beauty and love'. It helps to ease tension + stress in the body, soothes anxiety, and increases self-love, which is essential when it comes to clear, smooth skin. The ancient Egyptians believed that it could be used to maintain a youthful appearance.
What type of skin can use a face roller?

As it is made of natural materials, this is suitable for all skin types.
Can acne prone skin use a face roller?

Face Rolling is a massaging tool that has great benefits for acne like calming redness, bringing circulation to the skin, and can help relive stress in the face. Make sure to clean the roller before and after you use it. Also be gentle and don't press it down hard on your skin.
How do you care for the face roller?

The face rollers are handmade which means they can be brittle. Pressing them too hard, leaving them in a steamy bath or dropping them can break the parts of the roller as well as the crystal. After every use, wipe your Crystal Roller gently with a soft damp cloth. Store your roller in a dry place. Do not expose the roller to harsh chemicals or cleaning agents as it would erode the finish and polish. Do not soak the roller in hot water.
What products can you use with the face roller?

The face roller is best used with the Dreamy Lush Moisturiser and/or the Fab Face Oil to assist with absorption into the skin.
Choosing a selection results in a full page refresh.
Opens in a new window.